Renault ZOE ZE50 on Subscription
The latest version of the iconic Renault ZOE
The Renault ZOE is one of the iconic electric cars. First released in 2012, the ZE50 is the third generation of ZOE. And now, you no longer need to buy the car or lock into a lengthy lease with a big deposit in order to drive one. You can take one out on a flexible subscription with elmo: https://elmodrive.com/electric-cars
The ZE50 builds on all everything people loved about the original ZOEs. It's stylish, cute and easy to drive. But it's had a huge makeover, especially the interior, and comes with all the gadgets you'd expect in an ultra-modern car, including a Tesla-style tablet to control the infotainment system.
Most importantly though, this version of the ZOE has a mighty range of 245 miles (official WLTP); in the real world people say you can expect to get about 230 miles on a single charge.
For most people, this makes worrying about running out of charge a thing of the past...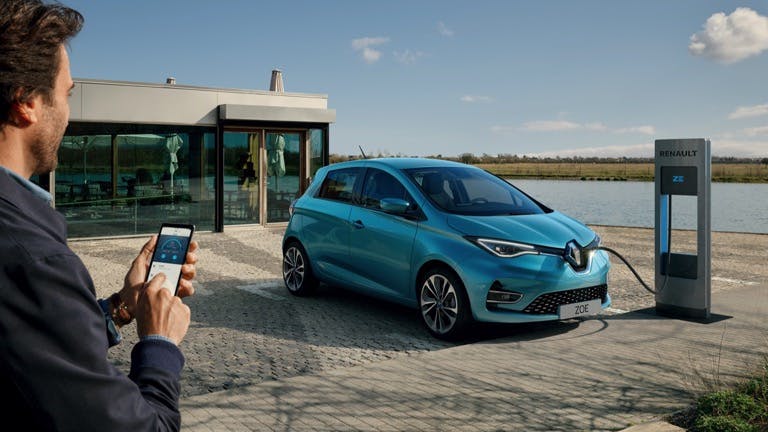 Try a Renault ZOE ZE50 on subscription for 3 months
At elmo, we're on a mission to make electric cars accessible to everyone. We believe you should be able to drive an electric car with total flexibility, in case the car doesn't fit your lifestyle or things change and you no longer need a car.
We also take care of insurance, maintenance and breakdown cover; and we even make a donation from your monthly subscription to carbon offset projects to help make up for emissions produced by the factories where the cars were built.
With a subscription, you can try the ZOE for 3 months and then hand it back any time or keep if for the rest of the year. At the end of the year, if you still love it, we'll replace it with a new one.
If you like the sound of this, register interest for our next delivery here...
(Or drop us an email on hello@elmodrive.com)